Everything You Need to Know About Children's Book Publishing: A Crash Course March 2016
< Return to Workshops
March 17 – March 20, 2016

Harold is an independent editor who works with authors and publishers. He has worked at Macmillan, Orchard, and Charlesbridge, and has experience in trade and educational publishing.

Jo Knowles is the author of six novels, including Living With Jackie Chan, See You At Harry's, Pearl, Jumping Off Swings, and Lessons from a Dead Girl. Her newest book, Read Between The Lines, was called "masterfully woven" in a …

Bobbie has spent over 30 years exploring every corner of the children's book publishing industry. Her career has taken her from manager of a children's independent bookstore to children's buyer and children's sales/marketing director of a book distributor to freelance …

Lindsay Barrett George was born in the West Indies and grew up in New Jersey. She received a BFA degree from Manhattanville College (after having spent a year at the Museum School of Fine Arts in Boston) and an MFA …
"Thank you, Bobbie and Harold, for creating a workshop that was informative and encouraging. I really feel you want each and every one of us to succeed in the children's book business. You are inspiring!"—
Janet Geeza
, 2015 attendee
"Thanks sooo much Harold and Bobbie – you treated us all very kindly and were supportive of our process. Also, you made outstanding use of time and provided outstanding resources and very clear information."—
2015 attendee
"I came away feeling energized and affirmed that I was on the right path. The weekend was just what I needed to feel my feet firmly planted under me as I enter this new world. You and Harold packed just the right amount of information in and around inspiring speakers and casual community building time."—
Lesley Higgins
, 2015 attendee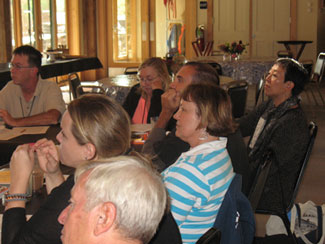 Workshop Description
Join us for a long weekend to start writing your children's book and learn all you need to know about the children's book industry!
Thursday
Tour the offices of Boyds Mills Press and Highlights for Children
Welcome dinner followed by faculty show-and-tell
Friday
Overview of children's book & magazine publishers, markets & genres
Best practices for submitting, conferences, critique groups
Agents, rights and contracts
Writing practice exercises
One-on-one mentoring
Dinner, followed by an interactive talk by author/illustrator Lindsay Barrett George
Saturday
What happens after you sign a contact; inside the publisher
What publishers are publishing
Magazines, Illustration and Self-publishing
Writing practice exercises
One-on-one mentoring
Dinner, followed by a talk from novelist Jo Knowles
Sunday
Becoming a professional writer
Resources and plans to help you move forward
One-on-one mentoring
Time to answer individual questions
If you've thought about writing for children but don't know where to start, this is the workshop for you. We'll guide you through the processes of creating, submitting and selling a book or magazine article, provide you with a one-on-one review of your manuscript and answer all of your questions. Here's a look at last year's schedule.
In addition to giving you a comprehensive look at how the children's book publishing industry works, we'll give you some actual writing practice. Through exercises, writing prompts and instruction by our editors, you can begin to shape and revise your ideas in preparation for submitting to publishers. Our goal is to help you learn about the business and begin to practice your craft.
Faculty blog posts:
Why Are You Keeping That Thing?
7 Quick Tips for Beginning Writers
How to Start Revising That First Draft
Getting Out of the Slush Pile
Resources for Serious Beginners
Registration is on a first-come, first-served basis.

Our all-inclusive price means we provide transportation from the airport, lodging, all meals, unlimited snacks, and wireless Internet access.
Workshop Information
Begins at 3 p.m. on Thursday, March 17 with an optional tour of Highlights for Children and Boyds Mills Press; ends on Sunday, March 20, with lunch.
Event Cost: $1065