Chautauqua East 2014 | June 15 – June 21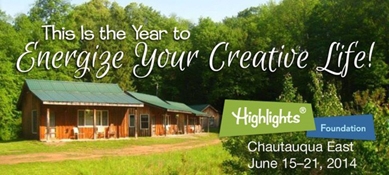 Register before May 20 and save $200.00! PLUS: For this conference we are piloting a writing buddy program. Sign up with a Writing Buddy, and share lodging with them, and you EACH get another $200 off.
The Highlights Foundation marks its 30th year anniversary of helping authors and illustrators achieve their creative goals with a special workshop event. For 27 years, attendees from all over the world gathered annually at the famed Chautauqua Institution to hone their craft with the guidance of our award-winning faculty. Now we bring the Chautauqua magic to Pennsylvania's beautiful Pocono Mountains.
Chautauqua East is a week of powerful whole-group seminars, compelling small workshops, intensive one-on-one sessions, and informal activities that offer participants a unique workshop experience. Click here to see a preliminary schedule and program.
This inspirational week offers participants the opportunity to work with a stellar faculty in a relaxed and supportive atmosphere and to explore a variety of topics important to writers and illustrators. The members of the Chautauqua East faculty are leaders in children's publishing. We don't just promise that you'll hear famous authors, illustrators, and editors speak. From day one, you'll have the opportunity to meet and mingle with them. We'll even offer yoga.
Fiction, nonfiction, poetry, picture book, magazine and book publishing—no matter what your genre or interest, you'll find programs that will engage your mind and nourish your spirit. No matter what stage of your career, beginning or advanced, you'll experience an unforgettable week that may change the course of your creative life.
Faculty & Special Guests