Workshop Spotlight: Coming in September 2017
September is a special month, full of zip! Everyone shakes off the laziness of summer, kids and teachers go back to school and there's a energizing "snap" in the air. You might think it's a great time to start a new project or to work on an existing one–if so, check out our September workshops!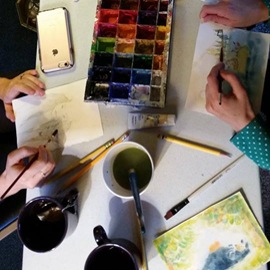 Illustration Intensive
September 7-10, 2017
Faculty: Adriana Domínguez, Elizabeth Rose Stanton, Giuseppe Castellano, James Ransome, Lori Nichols, Mike Curato
Special Guest: Lisa Cinelli
Immerse yourself in illustration techniques and gain tools for storytelling! Explore the ever-changing children's book market with authors, illustrators and art directors who are currently in the field. Come learn new techniques and enjoy the camaraderie of artists who understand your passion. Daily hands-on activities will challenge you to sharpen your illustration skills with support and guidance from our talented mentors. Read more.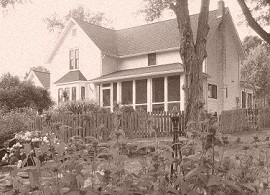 Historical Realities in Fiction for Children
September 14-17, 2017
Faculty: Donna Jo Napoli
Special Guests: Marilisa Jiménez García, Edith Campbell
Make your historical novel or picture book come alive for readers with an understanding of the role of writing stories to process historical narratives. Writing a picture book or novel set against historical realities allows your readers to learn from the past and see the needs of the world today–but this writing must be done with great care. Join us for lectures, writing exercises and faculty feedback. Read more.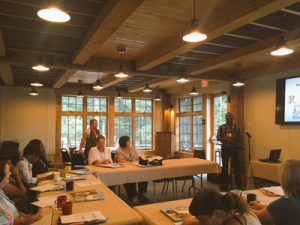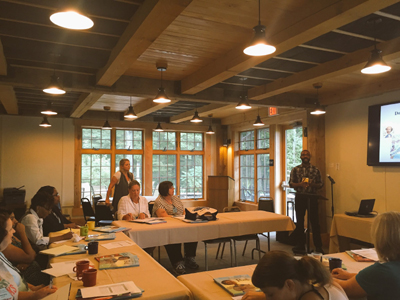 The Journey: Your Path to Publication
September 24-27, 2017
Faculty: Don Tate, Carmen Oliver
Special Guests: Floyd Cooper, Kelly Starling Lyons
If it's time to get serious, this workshop will give you all you need to start writing and set reachable goals towards publication. You will hear presentations to learn more about the children's book market, find out the essentials of writing for young children, complete writing exercises, have free writing time and meet with faculty for one-on-one critiques of your manuscript. Read more.
Posted on: August 9, 2017