Resources for serious beginners from our Crash Course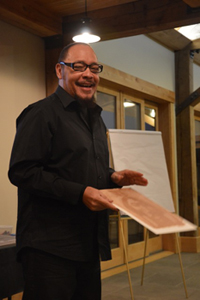 Last weekend we held our annual workshop for serious beginners: Everything You Need to Know About Children's Book Publishing: A Crash Course (stay tuned for next year's dates!)
Faculty members Tanya Anderson, Harold Underdown and Bobbie Combs were joined by special guests Annie Beer, Floyd Cooper and K.L. Going in sharing tips, best practices and advice with the conferees.
To give you a taste of the workshop's many delights, we wanted to highlight a few of the resources shared with the conferees:
Tanya recommended following the Junior Library Guild on Twitter to keep up with news and reviews of new children's books.
Harold has put together a great list of children's writer's "how-to" books on his website, from his book The Complete Idiot's Guide to Publishing Children's Books. He also recommended Preditors & Editors and Writer Beware, two sites where writers can research publishers, agents and too-good-to-be-true scams.
Annie shared some links to guidelines for submitting to magazines:
Highlights for Children
Carus Publishing/Cricket Magazine Group (Babybug, Ladybug, Spider, Cobblestone, Odyssey, Faces and more)
U.S. Kids Publications (Turtle, Humpty Dumpty, Jack and Jill)
Bobbie advised reading these blogs and enewsletters (all by Highlights Foundation faculty) to develop writing skills:
Kristi Holl's Writer's First Aid blog
Darci Pattison's Fiction Notes blog
The Institute of Children's Literature: Children's Writer E-News, edited by Jan Fields
Posted on: September 24, 2014
Tags: 2014 workshops, beginning writers, getting started, magazines, writing tips