Jillian Sullivan built her own straw house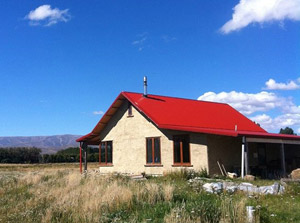 After living for 30 years in Motueka, New Zealand author Jillian Sullivan moved to Central Otago and built a straw bale house.
Jillian writes about her building adventure here.
Jillian will be our Writer in Residence at our Guided Retreat, June 21 through 26. If you want to reawaken your creative life, find out more and reserve your space now. Her program offers what every writer needs: a quiet time for writing, a secluded place to work, and a feeling of community with fellow writers.
Posted on: March 18, 2014